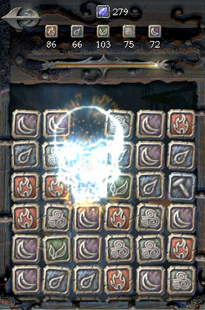 Well, this is a unique
free iPhone game
of a mixture of Tetris,
Bejeweled
with RPG touch. The graphics and sounds exactly what you can expect from a traditional RPG computer game. The mission is to align blocks with the same symbol an color in a row of at least three. When you achieve it, the row will disappear and you get the points. As you can guess, you shouldn't allow the blocks reach the top of the screen to not to lose. Well you can tilt the screen to be in landscape mode. It gives a more realistic feeling with the help of accelerometer and touch screen. You can ask where is the RPG part then? Well, as you accumulate points later you can buy several items called as power-ups.
The developers informed that
Aurora Feint
is planned to be a larger massively multiplayer online game (MMO). So, this free version is really just a beginning. Here is the video of the game.