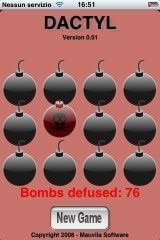 Friends from iSpazio are always busy with developing new themes, games and other applications for iPhone. Dactyl is a simple but very funny game which tests your reflexes with bombs.
When you open the game menu, you will see 3 *4 bombs. When you start the game, red bombs start to come. Your mission is to disarm them by clicking on them in time. When you do it, new ones keep appearing.
The game is located in Games category of the installer in
ModMyiFone
's repository.